I've got another goody for you, flist. meet Jon Michaelson, another talented author at Loveyoudevine. Here's a little somthing he has to say about himself:



"I am an author of gay romance and mystery/suspense novels where main characters happen to be gay. Being gay doesn't define my characters, but does provide opportunities for some exciting plots, often with a twist. My writing is influenced by diverse authors such as David Baldacci, John Grisham and Michael Crichton, to groundbreaking novelists like Patricia Nell Warren, Michael Nava and Felice Picano.

My first short-story was published by loveyoudivine in June 2008 and is included in an anthology in loveyoudivine's His & His Kisses anthology print release, MEN, out August 2008. I'm working on a couple short-stories and a novel of murder/mystery and suspense targeted for release in early 2009, the first in a series featuring closeted, gay Atlanta Homicide detective, Sgt. Kendall Parker."



Visit his wesite to learn more, and find some free reads

While you're here, though, take a look see that short he mentioned. Might I encourage you to pick up the Men anthology. It's well worth it.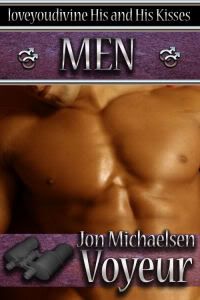 Kevin has an obsession; one that involves the muscular Adonis in the penthouse adjacent to his high-rise condominium. He's told no one, not even Alice, his best friend at the office of his fascination. He purchases binoculars, adds a camera with zoom lens and spirals into the depths of voyeurism before devising a plan to finally meet the man of his dreams. An evening of easy conversation and lustful glances ends far too soon, but not before Tony plants the most amazing kiss ever on Kevin's lips, leaving him yearning for more.
When Tony shows up at Kevin's apartment the next night all bloody and bruised, Kevin offers him instant refuge…and his bed. But not all is what it seems. Police burst into Kevin's home, searching for the killer of a man in the penthouse across the street—Tony's so-called partner.
Will Kevin's pleas of innocence save him from this horrible turn of events?
BUY IT NOW

Coffee time romance says:



Voyeur is well worth reading! Mr. Michaelsen does a fantastic job of keeping the reader on their toes...The sex is blistering hot... you simply must check out Voyeur!



Seizing the opportunity, he pushed forward and guided

Tony toward the bedroom, need and desire spiking his confi-

dence to move down the hall where few men trailed. Inside the

room, Kevin broke free of the warm embrace and crossed to

close the blinds. He never got the chance as Tony's arms

wrapped him from behind. Hot, moist air nipped the left side of

his neck as the man's mouth probed the skin below his ear.

Hands worked their way up his torso and fingers unbuttoned his

shirt as he stared through the blinds into the darkness. All

thoughts that someone might see vanished from his mind.

He concentrated on the fingers removing his shirt and

sliding down to the snap of his slacks, lowering the zipper. His

heart beat double-time, forcing blood through his body at a

dizzying rate, surging into his cock. Tony's left palm glided up

to fondle his hairless chest, fingers finding and tweaking nipples,

each hardening to the touch. The other hand slid around his

right hip, fingertips probing the band of his shorts before dipping

beneath his boxers.

Kevin gasped and his back stiffened. Sweat dotted his fore-

head and chest, and his breath came in quick, rapid succession.

The hunger inside him rose to a level far greater than he ever

imaged. He held his breath and gazed out into the night as Tony's

hand moved further down, thick fingers encircling his cock. He

almost exploded. Not now. Wait. Wait! A mixture of romantic,

sultry—no, nasty thoughts filled his mind as desire and primal lust

threatened to consume him.

Tony's other hand joined with the first and slipped beneath

the elastic rim, burrowing deep within a mass of pubic hair,

matted with moisture and sweat from the heat blazing between his

legs. He began massaging the head of his dick, while the other

palm moved slowly down to the base of his shaft, enkindling

volcanic fire within his swollen balls. Kevin struggled to keep his

balance as legs turned to jelly. He lost himself in the magic of his

lover's touch.

He gave himself willingly to Tony, unconcerned who

might see them from afar. The thought of someone watching

heightened the intensity level, pushing his desires into depths

never before achieved. Slacks and shorts slid over hips, butt and

across his trembling thighs as his partner lowered himself, a wet

tongue tracing his spine to the small of his back. Kevin moaned,

pressing his body into the seductive contact, unable to contain the

fervor growing inside, an unbearable ache that drove him wild

with desire. "Oh, shit. I-I don't think I can hold…"

Type your cut contents here.